Bar-Mount Beverage Cooler Holder
The Artillian Beverage Cooler Holder is the perfect accessory for a full day out on the tractor. Large enough to hold most 12-pack coolers, you now have a place to store your lunch and some ice-cold drinks.
Cam buckle strap with E-track fittings holds cooler securely in place and allows for quick removal on the go. Multiple E-track locking positions accommodate various cooler sizes and orientations. Two built-in cup holders included.
Integrated Cam Lever Latches securely lock the holder into place. No tools required!
Fits Only Artillian ROPS-Mount & Bed-Mount Tool Bar Systems
Frequently Bought Together
Texture black powder-coat steel
Integrated bottle openers
Two cup holders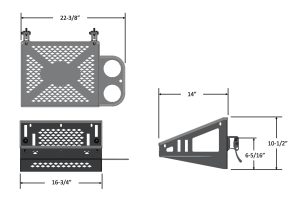 Dimensions: 16.5-inch x 13.5-inch x 10.5-inch high
Weight: 24 lbs.
Powder-coated 12-gauge steel
2 quick-release cam lever latches for easy removal
Related products