ES – Maine
I will preface this with saying, in my 47 years, I have never left a review and or testimonial. I purchased a double fist and center rake setup last year for my 3025, along with diverter control. Only got to using it this spring. Clearing a large wooded area for our future home has been amazingly easy thanks to this setup. We have utilized this setup to move and stack brush from 100's of trees, without hesitation. Albeit, that alone should warrant a testimonial, it's nothing I normally do, I am normally just satisfied with my purchase and carry on. But, after running into a small issue, I contacted Artillian, spoke with a live person each time, they actually listened and understood my trouble I was having. Working diligently they have gone above and beyond to resolve my issue. It is so nice to see customer satisfaction and honesty in a company. I would highly recommend Artillian. The Grapples are absolutely bullet proof.
- John Deere 3025
CP – Georgia
I have had the rake-grapple-rake and the pallet forks for well over a year. This equipment is great. Very reliable and heavy duty. Great addition to any tractor. Had an issue well after a year and contacted and was quickly resolved and very responsive customer service team. will buy more products.
- Kubota BX23S
DBY – VIRGINIA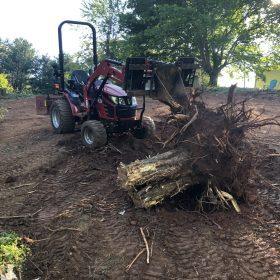 Purchased a Rake-Grapple-Rake, front hoe bucket and pallet forks from Artillian. All the products came superbly packaged. I've been super amazed with the versatility of all the products I bought. The front hoe bucket has remove several stumps from my property. My favorite has got to be the grapple. It saves my back every time I use it. Great products from a solid company.
- RK24
MF – MAYSVILLE
Thanks for the brochure!  I'll be looking over it carefully.  Last Saturday I took my 1025R to my church for a day of clean up.  The recent Derecho wind storm (think cat 2 hurricane force winds for an hour) really devastated Iowa.  The tractor really helped in the cleanup.  However, we needed two huge bushes taken out as well.  Your hoe bucket did the job.  Great tool!
- John Deere 1025R
GK – BRAWLEY
I purchased a double grapple bucket with a rake in between them and all of the hydraulics . I THOUGHT I was having trouble bleeding the air out of the system. No it turned out it bleeds the air out on it's own quite well. My problem was learning how to use the forward and back lever and push the button at the same time to make it work. Sometimes we make a problem in our heads when it is much simpler, just learn how to use the switch. I really like the grapple it came well packaged over 2000,00 miles not one broken box and a day early. They sure know their work not one scratch. Thank you
- John Deere 3032E
DV-Palermo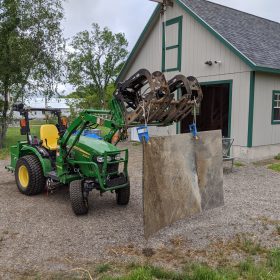 My Artillian grapple made this Springs barn cleaning so much easier. The sheep winter bedding is dense and very heavy but no match for a grapple. This year I tied my stall mat grip handles to the grapple to pick up the stall mats. Brilliant! I wish I had thought of that before! It made it wicked easy to haul them out, wash off, and return. Thanks, Artillian!
- John Deere 2025R/H130 Loader
PM – Northville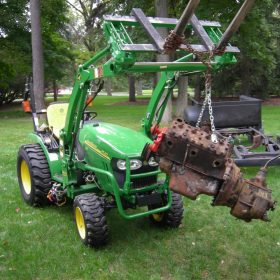 It is good to talk to you.  Thanks for the information on my forks.
Here are the picture that we discussed. I am restoring a '50 Ford pickup and have used the forks for a variety of things, Here are just a few including moving an old cab from my work shop back to my barn.
1950 Ford flathead V-8 with 4-speed T90 transmission.
- John Deere 2520
A–BC, Canada
I finally got around to installing the diverter system on my 1025r. It was a breeze. 2 hours and I was in business. The instructions are incredibly clear and concise. Who ever wrote these, hats off.
- John Deere 1025R
RK–Ohio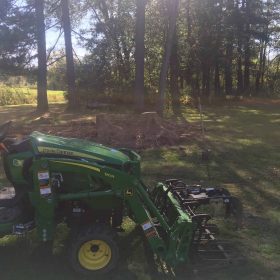 I purchased a Rake Grapple Rake from Artillian and I am amazed at the work I was able to complete with this tool. It is simple to install and using it has been a pleasure. I had 22 trees come down on my property on February 8, 2019. I was quoted astronomical prices to dispatch the trees that came down so I decided to buy a new sub compact tractor after researching Artillian as well. And it is unbelievable what a tool that the grapple rake grapple truly is. Also the support that Artillian Offers is second to none, thanks Tom at Artillian for all of your suggestions and help And most of all being available when I needed you.
- John Deere 1025R
DV-Palermo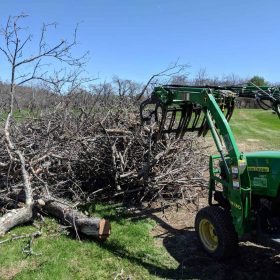 Outside of a little barn cleaning a couple of weeks ago, I finally got a chance to give my grapple a real workout in the orchard picking up branches, brush, and some small trees from this Springs prunings.
I can now collect, stack, and haul lots of brush saving me tons of work. I got so much practice that I swear I can now pick up a nickel with this thing!
Thanks again for your care!
- John Deere 2025R/H130 Loader
DV-Palermo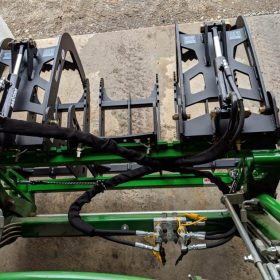 I just want to tell you what a great job Artillian did with the grapple design and kitting. Everything fit perfectly once I experimented with hose placement until I found the correct lay. I did add my own Deutsch connectors as I had previously installed a Painless Performance Aux Fuse Block and I wanted a tidier install. I also used your switch without the plastic mount as I found it more ergonomic for me.
I've had a chance to use it already starting with barn cleanup. I had to remove a huge pile of soiled hay that had accumulated all winter and the grapple made short work of it. Next, I used it to gather up some of the apple tree prunings from our apple orchard. I am faced with branches and brush scattered over 50 trees or so. I'm waiting for mud season to end so that I can get back out there to finish the job and I'm chomping at the bit already.
- John Deere 2025R/H130 Loader
CC-Preston, United Kingdom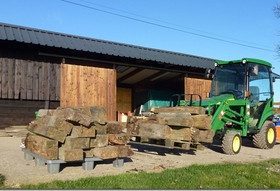 Good Morning… Below a few pictures of the Artillian forks in action here… shifting oak sleepers and a stone gatepost – all part of our landscaping endeavours.
Very pleased with the forks!
Note that the weather in the pictures is the exception not the rule – hence the cab on the tractor…
Thanks
- John Deere 1026R/H120 Loader
JG-New Jersey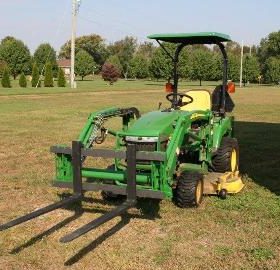 I have received your pallet fork shipment this morning. Just as other customers have indicated, your attention to detail is evident in design, production, finishing and packaging. While I considered bucket forks on a cost basis since I will likely use these only occasionally, I'm glad I ordered Artillian upon opening the packaging. As a former Quality Program Manager in the Aerospace/Defense industry, I appreciated seeing the design / stress analysis, choice of materials and coatings you apply. All first rate.
There was some minor package damage on the outside during third party transit (Fed-Ex Ground), but nothing seemed to touch the frame cocooned inside. You even thought about details such as placing the paperwork in a zip lock bag and including a Werther's Original candy. Very well done!
- John Deere Subcompact
BP-Maine
Can't do this with a bucket! Never thought I'd be able to pick up and move a boulder this size with my 1026R!
- John Deere 1026R
SB-Spain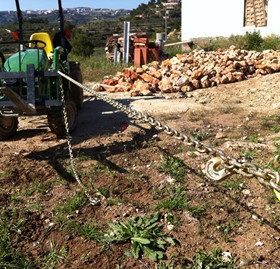 The gear arrived yesterday evening in Spain. Great stuff!
…The combination really works well, and I am glad I went through with them. Yesterday I cleaned all the pallets around the house which were still there after the construction…
…The 5/16″ chain works just great as you can see. It fits well in the slots. I can use it also very well with the three point hitch I bought from your colleagues at Omni Manufacturing.
Thanks again for your fantastic support!
- John Deere 2520
DVO-Wyoming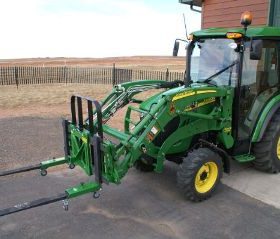 For All the Folks at Artillian, LLC, "Well Done!"
JDQA Pallet Fork Frame, Pallet Forks, Backrest Assembly, Casters and 2″ Receiver Hitch Adapter safely arrived in Laramie, WY all intact this afternoon. My compliments to those who designed the packaging and packed the components. The time taken to glue and staple the boxes resulted in all of them arriving without penetrations or collapsing and prevented any nicks or chips to the painted components. Everything arrived in Factory Showroom condition.
I am most pleased by the quality and craftsmanship that went into manufacturing each piece. The components were quickly assembled and mounted on my JD 3720/300CX. I look forward to putting the Fork Lift and Hitch Adapter to work starting tomorrow. A new 850 lb. drag for our gravel roads needs to be lifted off its delivery trailer; one or more of my four trailers will need to be repositioned; building materials for a back porch need to be shifted from the delivery site to the work site. Thank you for manufacturing equipment that will make these tasks a little easier.
Best Regards.
- John Deere 3720
BH-Washington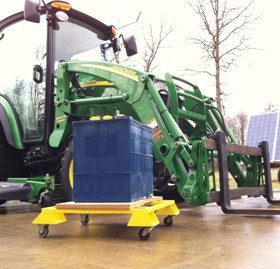 …Finally getting around to zipping off some pictures of the fork cart inspired by the ones I saw on your site.
This was put together from the odds and ends I had here, no trips to town for parts. From the beginning I had envisioned a dual purpose cart that could be used for the forks and also anything else to save the back! The 2 batteries on the cart weigh about 120 lbs each.
Now that I have the backrest I'll have to see if the cg has changed enough to warrant an extension of the aft end and repositioning the wheels to get the load forward.
The backrest fit like a glove and was easy to install. Nice touch sending along the proper size driver!
- John Deere 3520
DC-Delaware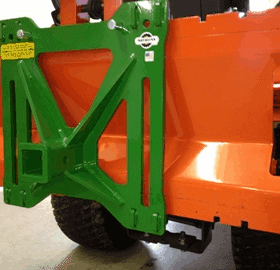 Here is some feedback from someone who adapted our Receiver Hitch Adapter onto their Kubota fork carriage…
"Green Works!!..Just a little grinding and relocate pins. Great add-on attachments to make things easier! Thanks"
- Kubota BX 2670
SVG-Wisconsin
Just wanted to let you know that the Artillian fork rack arrived yesterday in pristine condition. I was very impressed with the packaging and the design is fantastic. Most importantly, I was proud to see the Made in the USA sticker on top of that beautiful John Deere green powder coat.
Best Regards
- John Deere 1026R
EB – Texas
I just wanted to drop you a note to let you know that I did receive the forks yesterday. I was very impressed with both the packaging and the care and attention that obviously went into the design, manufacturing and finish of the frame and guard. I have not had a chance to use them yet as we are having inclement weather. After seeing the quality of what I purchased I definitely plan to follow up with the receiver and 3 point mounts. Please also keep me posted on the progress of your new grapple.
- John Deere 3320 / 300X
MF – California
Got my forks this week and they are great! Excellent product; thanks for putting these together!!
- John Deere 2305
Anonymous
I picked up the forks today from the FedEx office near our house. They mounted right up on my 2520 without issue. I hope they work as good as they look…
Thanks for the quick service.
Anonymous
The forks work great. They even lifted my chicken coup as shown in the attached. (Approx. 250 lbs) They also move a lot of brush but I didn't get a picture showing how much can be moved in one load.
Best regards
Anonymous
This weekend I will be showing the pallet forks to my brother as he has the same tractor. I think people do not always realize how many uses there are for them.
Anonymous
Your pallet forks work great. I have found many uses for both the short and long forks. The short forks work great for landscaping and digging out rocks and small trunks.
BJ-Minnesota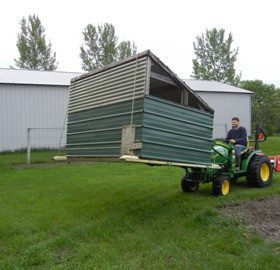 Love the light weight forks they do heavy jobs! Won't consider having a compact tractor without them.
- John Deere 2520
AS-Massachusetts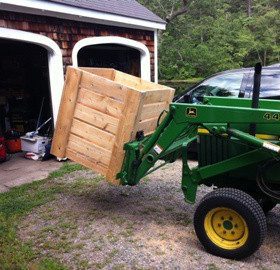 …Got them hooked up to the loader this morning and moved a few things around, including taking that granite slab out of the truck. Thanks!
…Here's my newly built compost bin on its maiden voyage.
- John Deere 870/440 Loader
TP-Illinois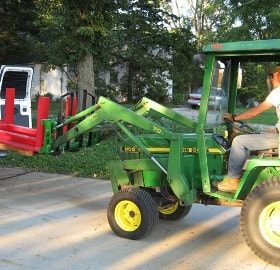 …They are installed and have been put to good use already. They are everything I expected. Nicely engineered and produced.
Attached are a few pictures of them in use on a welding table I just built. The welding table I'm lifting weighs approximately 700 lbs and is powder coated.
Thanks for everything…
- John Deere 855/70A Loader Pin-On Fork Set
EC-Alaska
I got the forks last Friday. They arrived in perfect shape. The packaging was great. I got them installed yesterday and got to use them a little. I'm sure I will be using these everyday in the summertime.
Thanks for the great service.
- John Deere 2520
JV-Georgia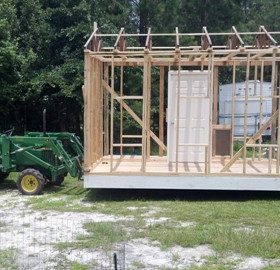 Well my forks have made life so much easier. Unfortunately my Tractor loader hydraulics stall at 5 feet with 1200 pounds of concrete loaded. Very well built product.
Moving a 14 foot by 12 foot wide kid's playhouse out of my workshop. I have a warehouse cart strapped under one end while I use the tractor with forks to lift the other end. The chain notches helped strap the tractor and playhouse together while pulling through the grass.
- John Deere 870/440 Loader
VB-Massachusetts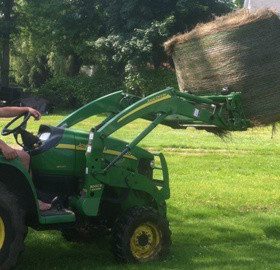 This is a pic with the pallet fork set (1 ton bale of hay).
Thanks for your help and a great job.
- John Deere 3120
KC – Michigan
- John Deere 2720
RS-Massachusetts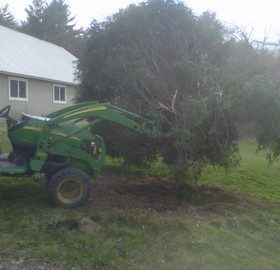 Another use for forks… spading forks!
- John Deere 3X20
DC – Illinois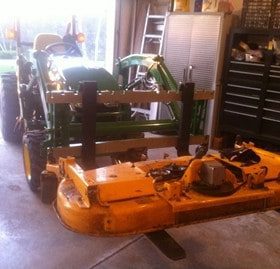 I received my order today. I wanted to let you know I'm impressed with the efficient design of the forks, and the quality of the workmanship. And the packaging job was remarkable – the fork set arrived in great condition.
The forks will come in handy for years to come. Thanks!
- John Deere 2520
DC – New York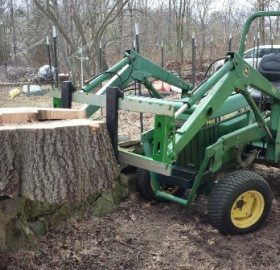 Here is a photo in action, lifting the first log off the stump of one of the trees we took down last week. That piece of oak is about 36″ in diameter.
Thanks
- John Deere 755 Pin-On Fork Set
RH – Michigan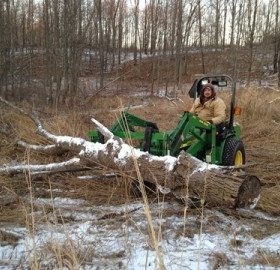 …Finally got the projects done so I was able to get a little time on the tractor with the forks moving some tree tops around for further processing. Which leads to my next point…
WOW! Those forks are tremendous and the uses for them are countless! Excellent design and spectacular construction, these will soon become one of the most valuable tools at our house.
Thanks again for filling a niche and for making a great product.
- John Deere 4100
JK-Michigan
I received your forks frame, and I think it is a good product. My forks that I had work great on the frame. It's hard to believe something that light can be that strong. I used them right away to lift some trees that were cut along the creek bank. They are a great saw buck. Thanks again for your time explaining.
- John Deere 430 loader
DW – Pennsylvania
Thanks for your prompt and courteous service. I received the removable backrest today and before you know it it was on. Beautiful fit… It really looks good and I am really pleased with the excellent craftsmanship. The actual time it took to complete the installation was about a half hour. Now all I have to do is find the time to get some seat time on my new 2720.
Thanks
- John Deere 2720
JK – Indiana
…the forks arrived just fine. I pick up the tractor next week and hope to use them soon. You do some very amazing work!!! Its good to find a U.S. builder that [cares] about what he puts out. Great Job!!!!
Thank you
- John Deere 1026R
BE – Iowa
I just thought I'd drop you a quick note to say thank-you for your effort to ship this as soon as possible. It actually arrived on the 11th which was excellent because we were running a day ahead of schedule. I'm amazed at the extra lift capacity due to the optimized weight of the fork frame compared to the other pallet fork I was borrowing from my neighbor. The geometry is also better as your design gives me better roll back angle with my 200CX loader. Use of your pallet forks has greatly improved my ability to move material around my property.
Thanks
- John Deere 2520
GE-New York
… Just wanted to drop you a email and say hi and let you know the forks are working excellent. These forks are bullet proof. I moved a big rock out to the front lawn and I lift attachments in and out of my trailer with no effort. I'm loving it. I sure am glad I bought them.
- John Deere 2520
TM-West Virginia
Here is a link to a video clip sent by a recent owner of a set of forks with them mounted on a JD 2520 and helping to process some firewood. There are other videos which can be seen following the one below. Thanks for sharing!
- John Deere 2520
SS-Pennsylvania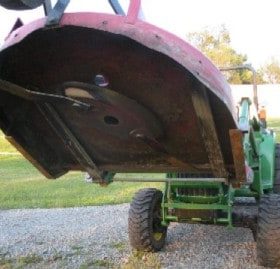 …I use them more and more in my problem solving around our 20 acre place. My fork lift add-on attachment is by far the best investment yet that I have made for my 4310 Deere. As you know, in the past I unloaded a huge IR air compressor from TSC with your forklift attachment. I've moved bedding with same. Last week I unloaded a TSC disc harrow from the bed of my F150A with the forklift. A 1000 lb or so flail mower is the rear counter balance that you can't see. Safety was my #1 concern.
I continue to wish you great success and hope that I can purchase from you again… You and your products are the best!
- John Deere 4320
DB-Michigan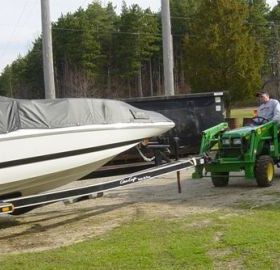 … here are some pictures of an attachment made using your AP-1 Brackets. We use for moving boats in & out of our storage facility. We have 80' x 80' barn the is filled each winter with boats.
- John Deere 4100
OG-Mittagong, Australia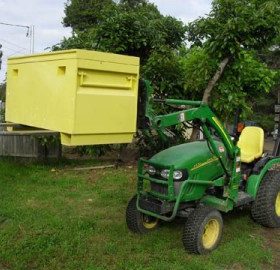 The forks are a very good companion to the bucket, very easy to change, very versatile, we are very happy with it. We thought the tractor can handle a bit more weight but sometime in the future we would trade it in with a bigger JD. So the investment in the forks was no doubt the right thing.
- John Deere 2320
TP-Washington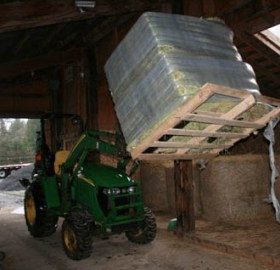 The pallet in the picture is ~1500 Lbs. of hay and the main reason for needing the light weight carriage. The elevation in the picture is the point where the hydraulics stalled out…
- John Deere 3320
Anonymous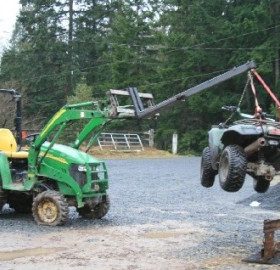 I thought you would get a kick out of this one. I would not recommend trying this for a novice… Advertised dry weight is 606 Lbs. I have to get the boom situated just right before I can lift it this way.
NOTE: It is NOT recommended to use loader forks this way casually. The load should be calculated at the given reach to not exceed the limits of the frame or machine. Otherwise, damage and injury could occur.
Anonymous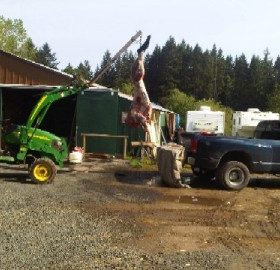 … I thought you'd like to see a few more uses that I have found for the forks and lifting boom that I built. The one thing that I didn't get a picture of that it helped tremendously with was laying out a 330 ft. roll of field fencing around a few obstacles. These forks get a lot of use around my little farm.
DB-Michigan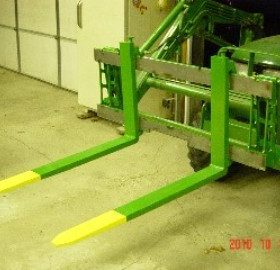 So far they work good. Hopefully the weather holds and I can put thru some real test loading up some scrap steel. Still need practice running the tractor controls, only had the tractor a couple of weeks now.
- John Deere 4100
Anonymous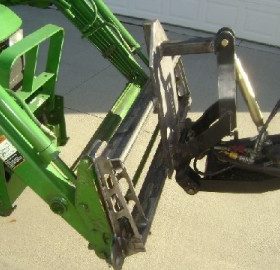 Here's a plow project using a 3-QA Frame as a base!
BS-Washington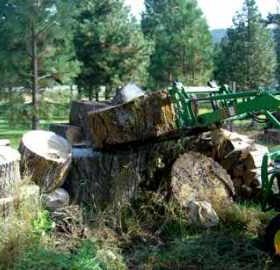 I just wanted to tell you how pleased I am with my forks. I just moved a bunch of rocks this week and they worked great. I also stacked some large cottonwood tree rounds with them… Thanks again for a great product.
- John Deere 2520
PM-Pennsylvania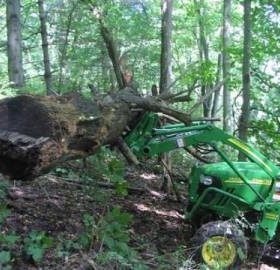 The forks are no doubt going to be a tremendous help on getting my playground cleaned up.
…The versatility of these things is proving endless… Hauling away tree trimmings… could never do that very well with the materials bucket.
Simple task as taking out the garbage. (Of all the uses I might have imagined, this definitely wasn't one of them!)
- John Deere 2520
AK-New York, NY – 1st Customer, Thank You!!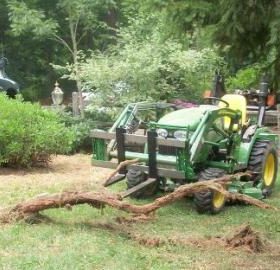 … Used the forks yesterday, great stuff! I moved a few pre-shingled shed roof sections (too heavy for me to move by myself). I also actually moved a few pallets with materials on them. And although not in the owner's manual, I found an old tree root just showing through the grass. Yes, the attached picture tells the tale. Not the design intent, but with the great range of curl the loader has, the forks were able to very neatly peel out the root without creating the mess left behind when using the bucket.
These are certainly great… Thanks again, man!
- John Deere 2320