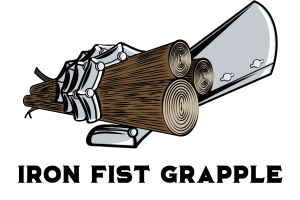 The Artillian Variable Grip Grapple connects to an Artillian Pallet Fork Frame, mounted on the front-end loader arms of compact and sub-compact tractors.
Allows operators to pick up, grip, & haul brush, branches, logs, rocks, and other forms of debris.
Modular design with lower jaw assembly(s) and one or more upper jaw clamping assemblies.
A clamping assembly is hingedly attached to the lower jaw and consists of proximal, medial, and distal segments hingedly attached to each other with mechanical linkages controlling their motion.
Opens and closes by a sole double-acting hydraulic cylinder.
Mechanical linkages collapse the upper jaw during closing such that objects of varying sizes can be pulled into the jaws and gripped firmly between the segments of the upper jaw, like a fist.