Original Sectional Grapple
The Artillian Sectional Grapple System mounts on the Artillian Pallet Fork Frame. Mix & match sections to best accomplish your tasks.
Grapple sections include hydraulic hoses, ready to plug into our hydraulic diverter kits, and go right to work!
Choose combinations of Grapple and Rake Sections
These units attach to Artillian Pallet Fork Frames (sold separately)
Grapple Sections require a 3rd loader function, such as our Diverter Kits
Grapples are rated for use on tractors below 50 HP
Using more than one Grapple requires a Hydraulic Splitter Manifold
Made in the USA
---
Unlimited Uses – Designed for brush, roots, rocks, firewood processing, land grading, etc. This system can be used for work above or below grade
Quality Components – We use welded hydraulic cylinders for better durability and longer life over the low-budget tie rod cylinders used by others
Versatile – The rake sections can be used for widening the Grapple bed or by themselves as a ground scouring fire rake and all-purpose rock bucket. Clear away brush, grade the soil, and then scoop up the waste and haul it away
Quick Installation – Permanently attached fast-action hardware secures Grapple and Rake Sections to the Artillian pallet fork frame in seconds
Simple Connections – Grapple Sections include hydraulic hoses with 1/4″ male quick disconnect tips to plug right into our Diverter Kits
Low Maintenance – Our Grapple hinge bushings are made of a custom high-load and high-wear-life material similar to carbon fiber, which requires no lubrication or maintenance
Construction – CAD designed, CNC cut from high strength North American steel and MIG welded
Finish – Powder-coat black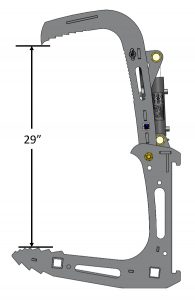 Powerful – Each Grapple Section can provide up to 1020 lbs. of clamping force at the tips. Using multiple grapples doubles or triples these capabilities.  On the high-force hinge setting, three grapples can apply over 3000 lbs. of crushing clamping force at the tips!
High Strength – Both Grapple and Rake Sections are made primarily of 3/8-inch thick ultra-high-strength and wear-resistant steel.
Tines, Spine Plate, & Cylinder Mounts: 3/8" thick AR400 Abrasion Resistant Alloy Steel
Tubes: ASTM A513 Steel
Gussets: ¼" HRPO 1010 Steel
Lightweight – Through extensive engineering, a typical Rake-Grapple-Rake setup weighs about the same as your bucket but is far stronger than competitive products. These Grapples harness over 5000 lbs. of hydraulic cylinder force, but weigh just 90 lbs. Each Rake Section weighs just 40 lbs.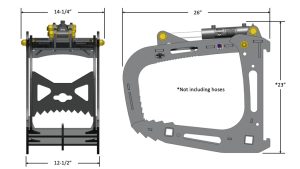 Compact: Grapple is 26" Long X 14-1/4" Wide X 23" High (not including hoses)
Using more than one Grapple requires a Hydraulic Splitter Manifold
These will only fit Artillian fork frames
Grapple Performance:
Grapples are rated for use on tractors below 50 HP
Grapple closing/opening time: 0.5-1 second
Clamping force at the tips:
Tractor Hydraulic Pressure, psi
Tip Force (max), lbs.
@ Wide Open Setting
@ High Force Setting
3000
700
1020
2800
650
950
2500
570
850
2200
500
750
Clamping force varies through the range of clamp rotation and also depends on your tractor's hydraulic pressure.