Iron Fist Grapple SET with 3000 Lb. John Deere Quick Attach Frame
Frame
3000 lb. John Deere Quick Attach Pallet Fork Frame Set with Artillians Iron Fist Grapple
Frame fits 1-, 2-, 3- & 4-series sub-compact tractors or equivalent.
Includes built-in 2-inch receiver
Grapple
Patent Pending Variable Grip Technology enables the Artillian Grapple to grasp payloads with a tight fist-like function.
The Artillian Iron Fist Grapple System mounts on the Artillian Pallet Fork Frame. Mix & match sections to best accomplish your tasks.
Grapple sections include hydraulic hoses, ready to plug into our hydraulic diverter kits, and go right to work!
Choose combinations of Sectional Iron Fist Grapple and Rake Sections
These units attach to Artillian Pallet Fork Frames
Grapple Sections require a 3rd loader function, such as our Diverter Kits
Grapples are rated for use on tractors below 50 HP
Using more than one Grapple requires a Hydraulic Splitter Manifold
Made in the USA
---
Frame
MIG Welded Construction – Engineered for strength and professionally handcrafted
Quality Materials – Built entirely in the USA with high-strength North American steel
JDQA Hooks – Reinforced with cap plates for extra strength
Durable Protection – Our proprietary graphite coating augments baked-on powder coat on the fork rails for the easiest sliding of attachments
Chain Slots – For 5/16 inch (8 mm) link chain at all four corners for easy lifting and securing of loads
Trussed Frame – Every pound of excess weight is removed without losing strength
Super High-Strength Upper & Lower Fork Rails – No cheap-formed steel here. Our frames are built like a real forklift carriage. These rails are laser cut from extremely high-strength and wear-resistant North American steel
Grapple
The Artillian Variable Grip Grapple connects to an Artillian Pallet Fork Frame, mounted on the front-end loader arms of compact and sub-compact tractors.
Allows operators to pick up, grip, & haul brush, branches, logs, rocks, and other forms of debris.
Modular design with lower jaw assembly(s) and one or more upper jaw clamping assemblies.
A clamping assembly is hingedly attached to the lower jaw and consists of proximal, medial, and distal segments hingedly connected to each other with mechanical linkages controlling their motion.
Opens and closes by a sole double-acting hydraulic cylinder.
Mechanical linkages collapse the upper jaw during closing such that objects of varying sizes can be pulled into the jaws and gripped firmly between the segments of the upper jaw, like a fist.
Frame
Designed for a maximum load of 3000 lbs. (1360 kg) at 18 inches (46 cm) Load Center. Attachment weights may limit the maximum load.
Fork frame weight: 91 lbs. (41 kg)
MIG Welded Construction
Powder-coat finish
Frame Rails: ½" thick ASTM A514/T-1 Alloy Steel
Tubes: ASTM A513 Steel
Mounting Trusses: ¼" HRPO 1010 Steel
JDQA Hooks: ¼" ASTM A572 Grade 50 Steel
JDQA Pins: Low Carbon Steel
SSQA Plates: ¼" ASTM A572 Grade 50 Steel
Grapple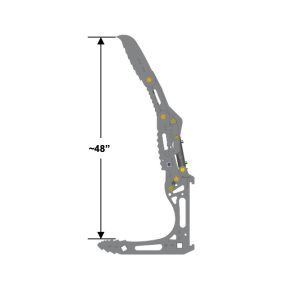 Powerful – Each Grapple Section can provide up to 1020 lbs. of clamping force at the tips. Using multiple grapples doubles or triples these capabilities. On the high-force hinge setting, three grapples can apply over 3000 lbs. of crushing clamping force at the tips!
High Strength – Both Grapple and Rake Sections are made primarily of 3/8-inch thick ultra-high-strength and wear-resistant steel.
Tines, Spine Plate, & Cylinder Mounts: 3/8" thick AR400 Abrasion Resistant Alloy Steel
Tubes: ASTM A513 Steel
Gussets: ¼" HRPO 1010 Steel
Lightweight – Through extensive engineering, a typical Rake-Grapple-Rake setup weighs about the same as your bucket but is far more robust than competitive products. These Grapples harness over 5000 lbs. of hydraulic cylinder force, but weigh just 120 lbs. Each Rake Section weighs just 45 lbs.
Using more than one Grapple requires a Hydraulic Splitter Manifold
These will only fit Artillian fork frames
Grapple Performance:
Grapples are rated for use on tractors below 50 HP
Grapple closing/opening time: 0.5-1 second
Clamping force at the tips:
| Tractor Hydraulic Pressure, psi | Tip Force (max), lbs. @ Wide Open Setting |
| --- | --- |
| 3000 | 700 |
| 2800 | 650 |
| 2500 | 570 |
| 2200 | 500 |
Clamping force varies through the range of clamp rotation and also depends on your tractor's hydraulic pressure.